The Breckinridge Greys
Company G, 5th (9th) Kentucky Infantry, C.S.A.
is a group of living historians based in Kentucky & portraying the common Confederate infantry soldier in the western theater of The War (for Southern Independence).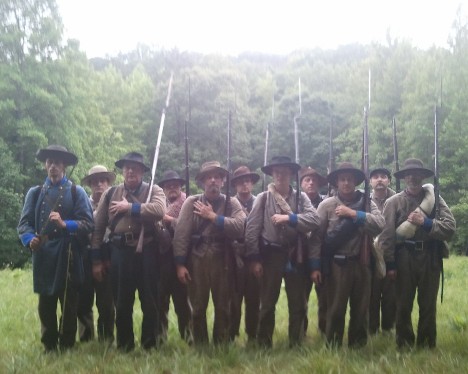 The Greys at Pickett's Mill GA
We are campaign oriented, meaning that we:
Wear the most authentic uniforms and clothing possible and look the part of Confederate soldiers on campaign

Carry the gear a Confederate soldier on campaign would carry

Sleep with a groundcloth & blanket without the benefit of tents (unless historically documented for a particular campaign)

Carry and prepare period rations

Function as a military unit, by the book (Hardee's Rifle & Light Infantry Tactics)

Always learn more and improve

And at the same time, stay family-friendly
---
This progressive mess (a group of soldiers who camped, ate, and fought together) wants the best reenacting experience possible–to experience what our ancestors lived. All or nearly all of us are members of the Sons of Confederate Veterans and have Confederate ancestors. What we do takes a lot of thought and effort, but what we gain through the experience makes it worth it all. Our goal is to learn from and teach each other, our unit, the reenactment community, and civilians (the public) about the cause and sacrifices of the Confederate soldier.
Our cause, our flag, and our heritage are that important.
We are proud to be affiliated with:
https://www.facebook.com/pages/The-Independent-Rifles/214803615208852
---
Thanks to http://tennessee-scv.org/Camp1513/ for use of Confederate clipart.
---
Unit members: Visit our forum.